Schedule an eye exam at a location near you or click here to book online
Language Translations
Focused Optometry champions diversity! This Alberta Health Care information has been translated by the staff and doctors at Focused Optometry.
---
English
Did you know that Alberta Health Care covers annual eye exams for children from ages
0-18 and for adults aged 65 and up? Coverage is also now available for Albertans of all
ages for visits related to medically necessary eye problems.
What does medically necessary mean? Eye infections, trauma, eye diseases, or other
medical eye related concerns, such as retinal health exams for diabetics will be
covered. The concern must be directly related to the health of the eye and not the
refraction (visual acuity part of the exam). A medically necessary examination does not
include a prescription for glasses or contact lenses.
We recommend children come for their first full and comprehensive eye exam at 6
months old and thereafter on an annual basis.
At Focused Optometry, we have three locations to better serve your visual needs. Call
us today to book your eye exam and see the world with more clarity.
---
French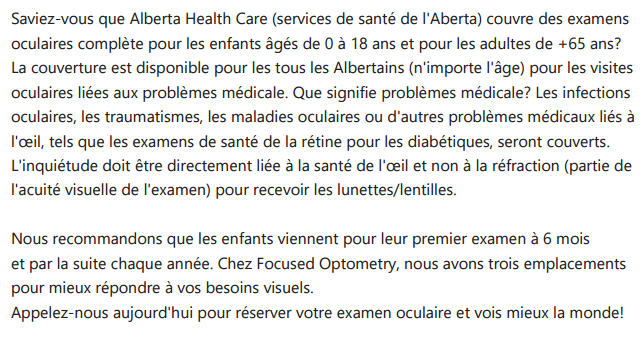 ---
Portuguese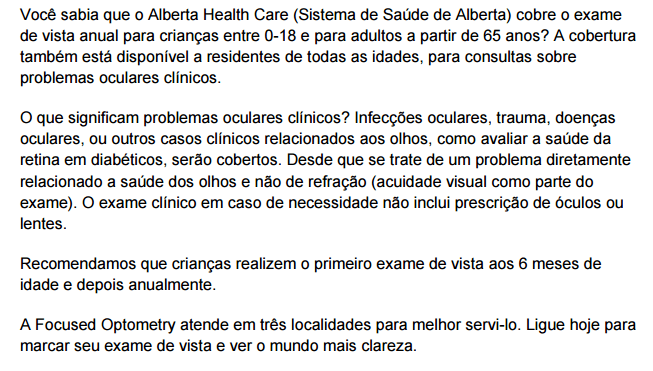 ---
Croatian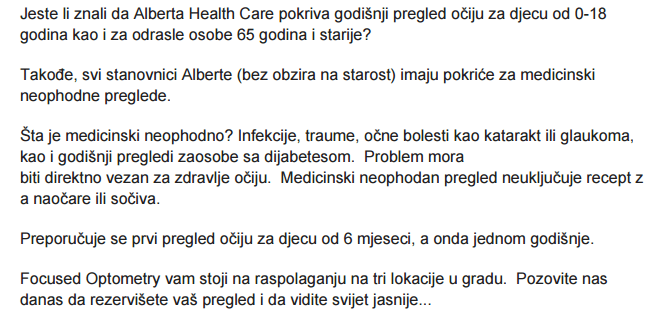 ---
Arabic

---
Taiwanese

---